What's New – GIFs, Advanced Analytics, Calorie Calculation
What's New – GIFs, Advanced Analytics, Calorie Calculation
We're excited to announce our first major release of 2019 that will revolutionise the way you perform your workouts.
Since the beginning, the goal of Exercise Timer was to help you track your custom workouts no matter how complex they are. In this new update we moved closer to this vision by adding lots of new features which you suggested through the years.
New Layout
If you are a long time user of Exercise Timer you probably only recognise the third screen from the above screenshots. This has been Exercise Timer's main screen for several years.

Most of the time, before starting a workout you need to see an overview of the exercises, duration and calories to be burned. This inspired the new design which gives you the information you need when you need it.
When you open the app you will now see all your workouts and training plans. You can go to the usual Activity screen by starting a workout.
Add Gifs to your Exercises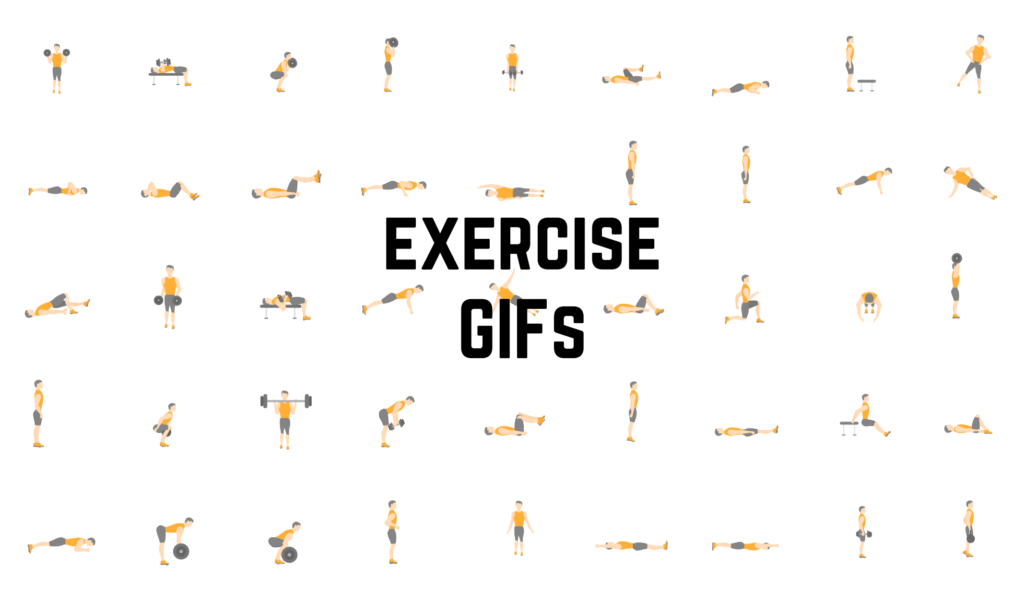 You can now attach GIF animations to your exercises. When editing your exercise, simply tap on the top-left gif icon to attach a gif. You can also start typing your exercise name, and if you're lucky we have a gif for it! For now we only have about 80 different Gifs, but we will be adding more soon.
A picture is worth a thousand words, what are GIFS worth?

During Activity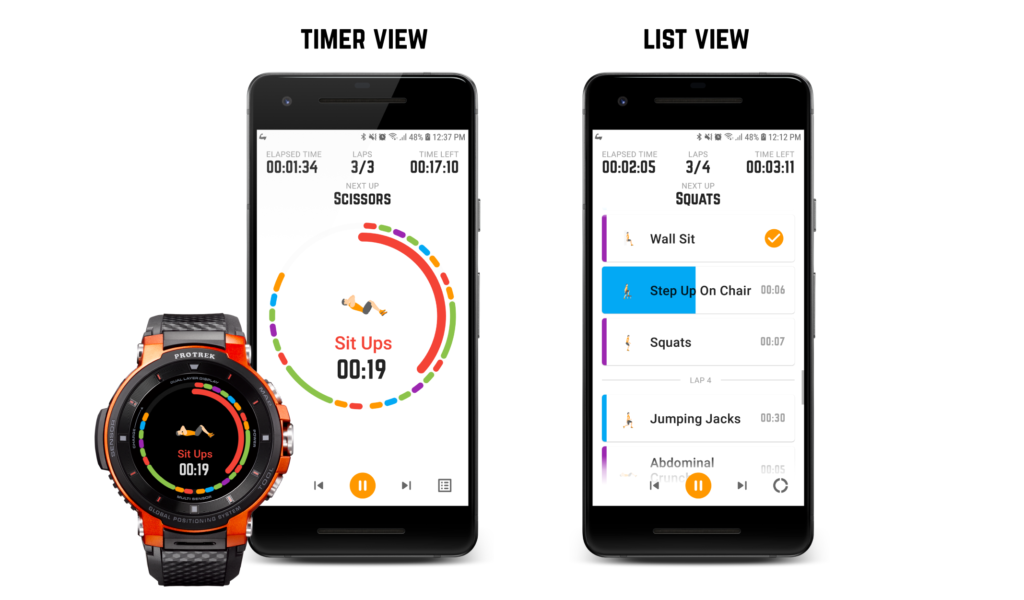 We spoke to several fitness enthusiasts and one point that almost everyone made was that the old version was not visible from a distance. Some people prefer to leave the phone a few meters away while performing their workouts. For this reason we decided to make the new design bolder and more clear.
History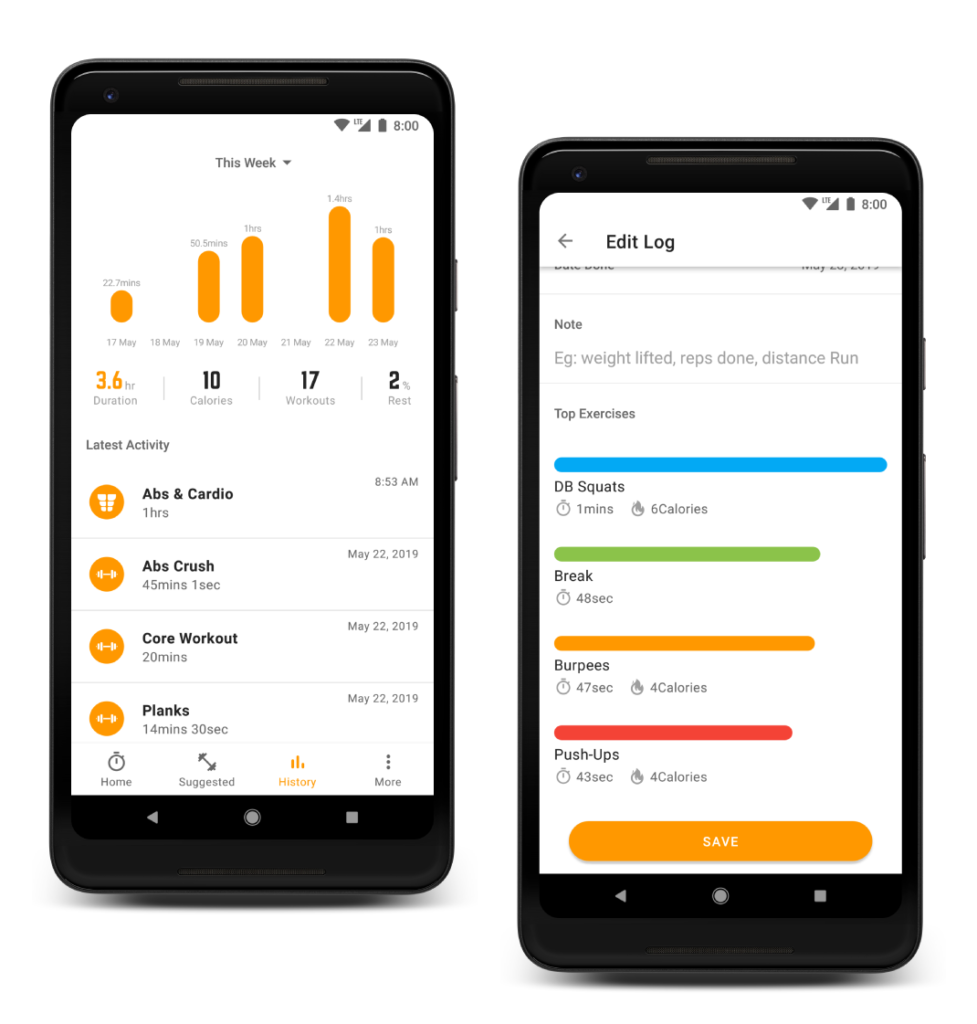 In the past we did not give much importance to the logging aspect of Exercise Timer. In this new update we enhanced the workout history making it more powerful and versatile.
You can now keep an eye on the number of workouts you performed, the total workout duration, calories burnt and even the percentage of rest intervals in your workouts. Apart from these details, each workout log will also include the list of all the exercises performed sorted by duration.
If that's not enough, you can also edit past logs to add in notes and details that you might not have included during your workouts.
Sync Across your Devices
You now have the ability to create an Exercise Timer account. This will allow you to login with the same account on several devices and sync your workouts, plans and history across all of them.
This will ensure that your workouts are safer and you don't accidentally lose them with your phone.
Announcement Mixer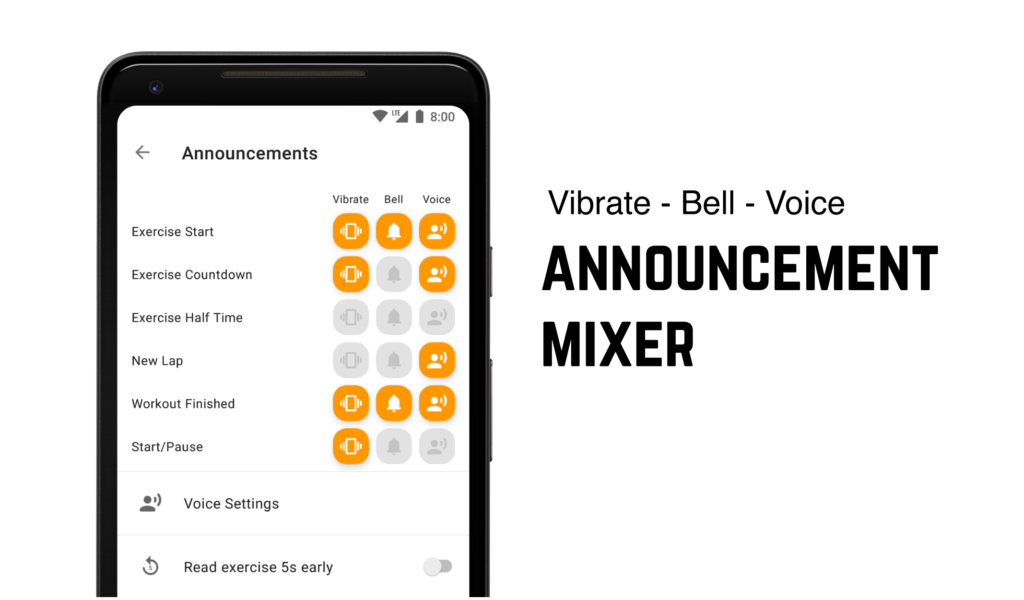 While some prefer to perform their workout while looking at their phone, others prefer to have their device in their pocket. For all of you who prefer being guided by voice, vibrate or bell, we got you covered.

This new update introduces the announcement mixer. This allows you to turn on only the announcements you want, to make your workout more personal and custom.

Workout Creator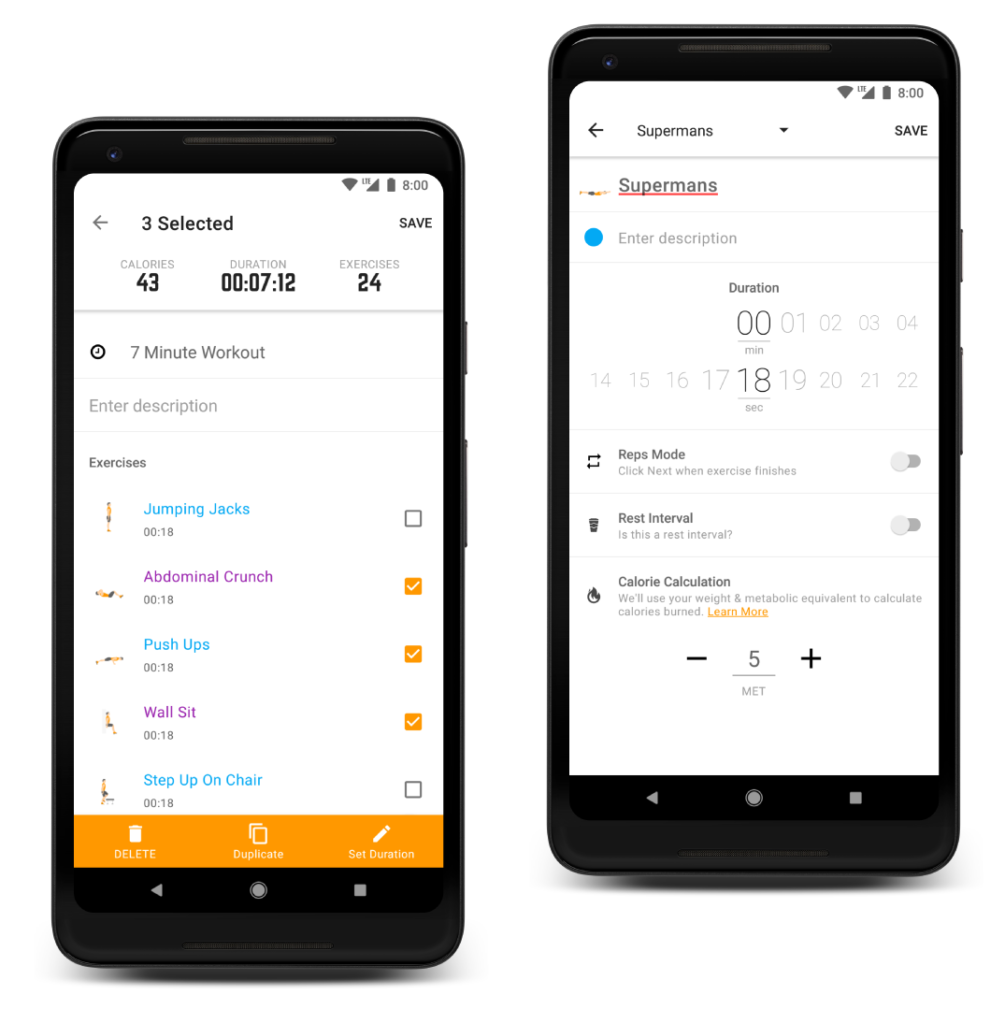 In this new version we continued to strengthen the workout creator. Here are some of the new features which were added to this part of the App:
Duplicate, delete or change duration of multiple exercises at once.
Total Workout Duration calculation
Calories burnt calculation. More info here how calories are calculated using METs.
Attach Gifs to Exercises
Faster Exercise inputing with Exercise name suggestions
Set the number of Reps for exercises in reps mode.