Experience Exercise Timer on your wrist
Experience Exercise Timer on your wrist
If you have been using Exercise Timer on your Android Phone for a while it's time to give our Wear OS app a try.
Installing Exercise Timer on your smartwatch allows you greater freedom when performing your workouts. All the custom workouts you create on your mobile app will be seamlessly synced to the Wear OS app and can be tracked directly from your wrist with a tap. By simply looking at your wrist, you can see your most important workout details, making it perfect for those High Intensity Interval Training Workouts.
Exercise Timer can work in two ways with your smartwatch: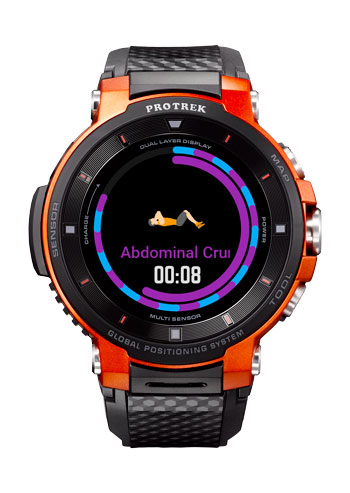 Watch Only
Start a workout directly from the Wear OS app.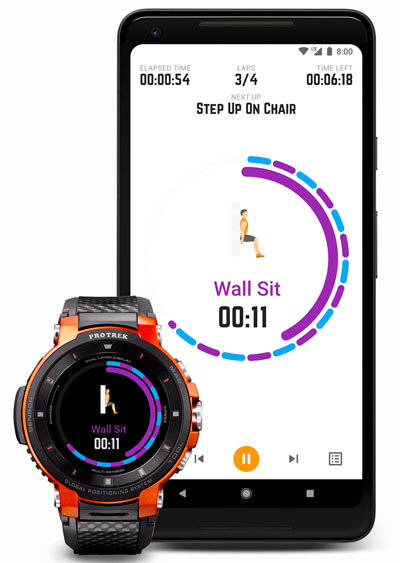 Sync Mode
Sync your smartwatch to your smartphone workout.
Take a look at this short tutorial to experience how easy it is to track your workouts from your Smartwatch:
Optimized for the CASIO ProTrek Smart
Exercise Timer worked closely with CASIO to optimize our Wear OS App for the PRO TREK Smartwatches.
Casio PRO TREK Smartwatches are built for workouts, with powerful features:
Durable smartwatch designed for workouts & adventures
Full-colour online and offline maps
Built-in GPS, barometer, altimeter and digital compass
Energy-efficient GPS chip and dual-layer display
Robust to military standards and water resistant to 5 bar
CASIO is offering a one-time special deal for Exercise Timer users. For a limited time, save 15% on a Casio PRO TREK Smart. This smartwatch is built for workouts and optimized to work with Exercise Timer.
Click the link below to save 15%, – on the RRP *
*on the Recommended Retail Price, but don't wait too long because this offer won't last long! You have until 30 June 2019. This offer is only available in Italy, Germany, Austria, France, Belgium, Spain, Portugal and the Netherlands.