Exercise Timer is teaming up with CASIO
Exercise Timer is teaming up with CASIO
We are excited to announce that Exercise Timer is now a featured App on the CASIO PRO TREK Smart. With this partnership CASIO has chosen Exercise Timer as their exclusive interval timer for the second generation PRO TREK Smart watch.
Here at Exercise Timer we have always worked hard to bring you a highly customisable interval timer for your phone. Installing Exercise Timer on your smartwatch gives you greater flexibility when performing your workouts. By simply looking at your wrist, you can keep track of your workout progress, making it perfect for those High Intensity Interval Training Workouts.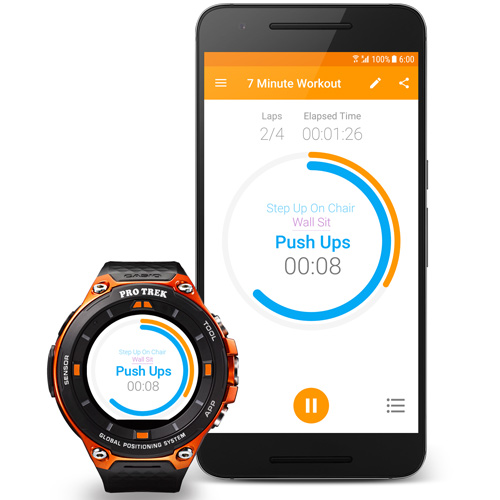 The CASIO PRO TREK Smart, features water resistance up to 50m, which is more than enough to handle your sweat during a workout. Moreover, its touchscreen features an innovative anti-fouling coating which resists fingerprint stains.
If you are worried that your workout might take a toll on the CASIO PRO TREK Smart think again. It is built and tested to USA military standards and has been tested to meet its requirements under various environmental conditions including shock and vibration.
All this makes Exercise Timer and the CASIO PRO TREK Smart the ultimate combination for your fitness gear.